Forest School Jan 16th
Posted 20/01/2017 14:01 : By: EdKenyon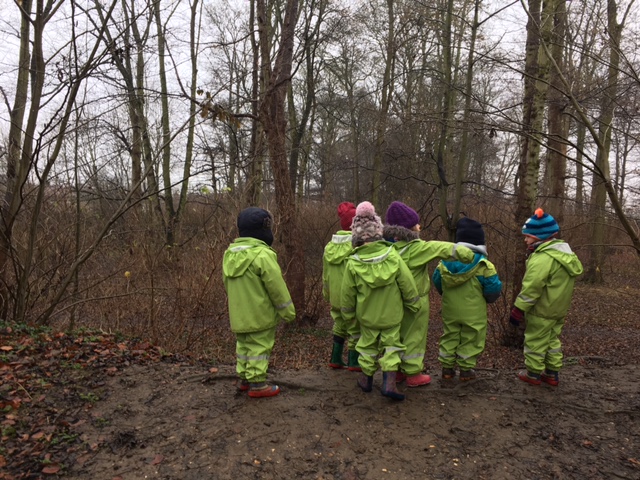 "Look! There's a mountain!"
And with those words our adventure began...
One of the most important aspects of Forest School is its accumulative nature. The children return to the same wood each time, acquiring confidence but also flexing their inquisitive muscles. They quite often see things one week, which have always been there, but they had not noticed before. This makes for a deep and rich experience, especially as nature is so good at conjuring up fresh interest.
However, this week, due to some unforeseen transport issues, we revisited a section of woodland in Burghley Park. Many of the children have been there before; some quite a few times. Indeed, I have been there many, many times - but I had never noticed The Mountain!
Yet there it was and it was our newest Forest Schooler, Arthur, who boldly pronounced there was a mountain. Oh, and also that he wanted to climb to the top!
It was steep, muddy, covered in dead leaves and with no obvious path to the top, yet Arthur led the way. "I'm trying to get to the top!"
The rest of the group watched his progress with interest. Arthur was joined by John and they both clambered and pulled themselves higher and higher. We could see it was hard going, but they persevered. "I'm on top of The Mountain!" came the jubilant shout when the summit was reached.
Their route proved very tricky and didn't lend itself to a rope line, so we chose another part of the mountain and set up a rope to help the rest of the group climb to the top. It was very slippery and they had to learn how to continuously put one hand in front of the other on the rope in order to make progress. There was a lot of slipping as the dead leaves gave way to the mud underneath - yet they kept going. They were determined to pitch our camp at the top.
What a lovely spot to have lunch. We put up a shelter as there was some light rain and the children could see how far above the woodland floor we were. They noticed a large dead tree - struck by lightning years ago - which had snapped in two. "I think a giant lives there!"
After lunch the group explored the mountain top and were fascinated by another steep slope where the dead tree was lying. We decided that slope was too tricky to descend, so we climbed down the same way we had come up. You will probably know that descending a steep slope can actually be harder than climbing it! The rope line was still there to hold onto but it was very slippy - and so it became a wonderful nature slide (those Forest School suits are really taking a beating!). The children took it in turns to slide all the way down, their faces covered in smiles.
After more exploring near the dead tree - we seemed to have found where the worms live in Burghley - hot chocolate was needed at the bottom to fortify us for the journey back to TCG.
And so a fresh pair of eyes, which saw what no one else could see, was the catalyst for a terrific Forest School adventure.